Open the add form popup
On the project page, the Add a form button is located under the project name and description.

The add form modal will open, and you can select the method of adding your form. There are three ways to add XLSForms to a project in Ona:
Upload an XLSForm from your computer
From an external URL
Via Dropbox
Upload an XLSForm from your computer
For forms saved on your computer, upload them directly by clicking on the Choose file to upload button.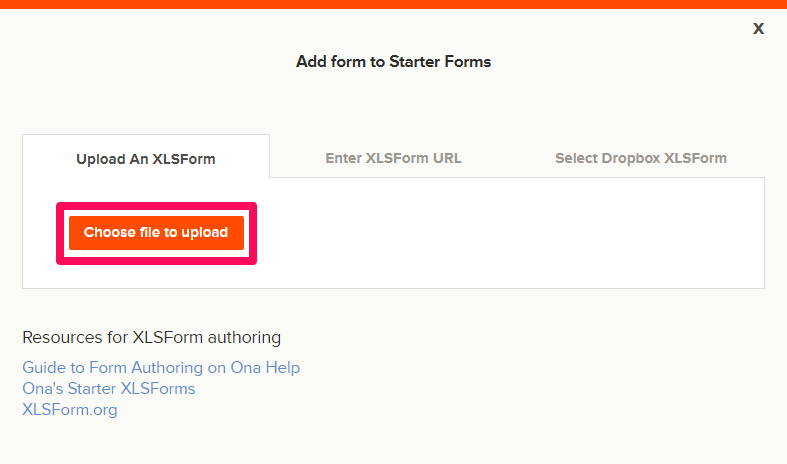 Upload an XLSForm from an external URL
For XLSForms hosted on an external URL, paste the URL into the window and click the Add Form button.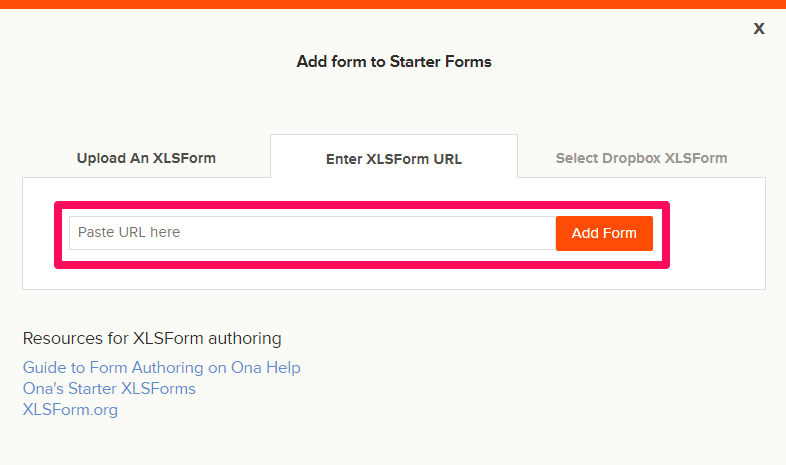 If you are using Google Spreadsheet to edit your XLSForm, follow the steps below to get a downloadable URL that you can use to publish your form.
To retrieve the XLSForm downloadable URL:
Open your XLSForm in Google Spreadsheet, click the File menu and select Share then Publish to web;
Choose the option to publish the entire document, then select .xlsx as your publishing format;
Click Publish;
Copy the URL and paste it into the upload form window under the Enter XLSForm URL section as explained above.
Upload an XLSForm from Dropbox
If you have forms saved in a Dropbox account, you can upload them directly from Dropbox using the Select Dropbox XLSForm option.